World-Class Garden Medias Jointly Promoting GMF2018
Author:GMF Committee Source:  Updated:2018-01-19 11:01:16 
The 10th Guangzhou International Garden Machinery Fair (GMF2018) which will be held during March 21st -23rd, 2018, Guangzhou International Sourcing Center, China has yielded phenomenal success since the global campaign has been rolli
The 10th Guangzhou International Garden Machinery Fair (GMF2018) which will be held during March 21st -23rd, 2018, Guangzhou International Sourcing Center, China has yielded phenomenal success since the global campaign has been rolling!
More than a hundred media at home and abroad have been updating the latest info of GMF2018. And over 110 exhibitors have confirmed their booths at GMF2018! There is no doubt that the media's unyielding supports to GMF are indispensable. Now let's have a glance at some media partners abroad.
1. Irrigation Australia Association
Irrigation Australia association has long been one of GMF's intimate media partners. It shared our event information in its social networks and also distributed the information to all of its related members.
Irrigation products are always the hot purchasing items in the GMF, including irrigation pump, hose, sprinkler and miscellaneous fittings. Undoubtedly, the publicity of Irrigation Australia association help bring an excellent chance for buyers to purchase what they want!

2.EU Garden—— NO.1 Gardening Portal in Europe
We are glad that EU Garden become one of our media partners. It provides lots of gardening information to the gardeners from all over the world, such as nurseries, garden centres, landscape designers, garden tools producers, garden furniture, etc. We believe the cooperation is beneficial for us to raise the popularity in the world.

3. AGRI MECH——The Largest Agricultural Magazine In India
AGRI MECH is the only media partner of world's largest exhibitions and most popular among high profile agriculture industry and highly appreciated by the entire readership including top manufacturers of Agriculture machinery. It shared the exhibition information in its official website to the largest readership of agricultural machinery business and users.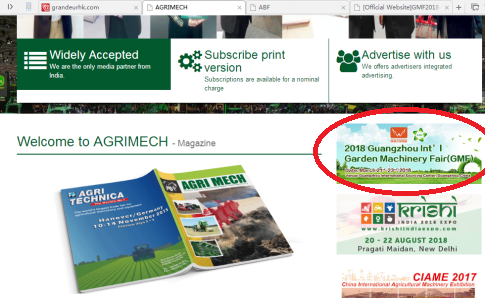 The media publicity benefits a lot to the exhibition, hereby, GMF organizing committee express the most sincere thanks to them!
It is convinced that your participation to GMF will never let you down in view of our global presence! A stream of buyer leads comes to you on the spot! How can you miss such a wonderful event? Don't hesitate to register as our exhibitor or as a visitor to purchase quality goods!
Visitor Registration: http://www.yljxz.com/order/order.php?id=46
Exhibitor Registration: http://www.yljxz.com/order/order.php?id=47
The 10th Guangzhou Int' l Machinery Fair (GMF 2018)
Date: March 21st -23rd, 2018
Venue: Guangzhou International Sourcing Center, China
Web: http://www.yljxz.com/index.php?lang=en
Contact: Ms. Karen SHE
Tel: +86 20 29806623
Email: marketing@grandeurhk.com; gmfchina@yeah.net