China's First Only Electric Garden Machine Comes Out
Author:未知 Source:  Updated:2015-01-30 17:01:28 
" This multifunction garden machine realized pure electric driving for the first time, both environmental protection and energy saving", Zeng xiaochun said. Currently, there are 200,000 garden pruning mach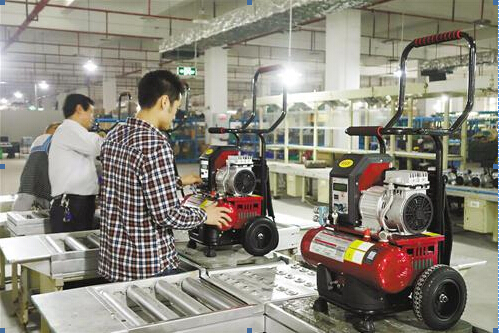 " This multifunction garden machine realized pure electric driving for the first time, both
environmental protection and energy saving", Zeng xiaochun said. Currently, there are 200,000
garden pruning machine in Chongqin market, among which the majority are fuel pruning machine
Japan produced. This new electric garden machine uses a new type of energy----lithium battery. The
machine can continuously use 6 hours after 5 to 8 hours charging.
Zeng said, fuel pruning machine and electric pruning machine, taking 800 hours for instance, the former costs 4,000 yuan while the latter only costs 200 yuan.
Tools can be equipped in this machine such as :various short& high stick scissors to trim all kinds of
garden; various length of spray gun to used for pesticides sprays of nursery and vegetable; various
length of pneumatic tools to do assembly, production and construction; various USB port and
memory type player to provide entertainment function.
"Although this electric machine has just been introduced into market, it has been received special
design order from European and American businessman", Zeng said. At present, they have received
orders from the United States, Canada, Pakistan and Nepal. "Next year, we will realized mass
production, and estimated an annual out put reach 60,000 unites, the annual output value of over 180
million yuan. 300 people will be employed."
This is just a microcosm of national high-tech industry in Gao xing district. Related person said,
the number of national high-tech enterprises in this area have reached 100, which new identified
companies has taken 20% of the total.